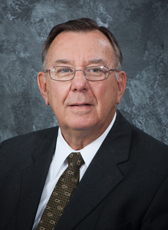 Professor of Church Administration
Visiting Professor
Office:

HSC


Office Phone:

972-948-7085


Fax:




E-Mail:

bwelch@nobts.edu
---
Teaching Experience
University of Oklahoma
Liberty Baptist Theological Seminary
Southwestern Baptist Theological Seminary
New Orleans Baptist Theological Seminary
Teaching Specializations
Church Business Administration, Church and program administration, Research Design and Statistical Analysis, Leadership Training
Ministry Experience
Church Business Administrator
Publications
Church Administration: Creating efficiency for effective ministry
Broadman & Holman Academics
The Church Organization Manual
National Association of Church Business Administration
Other publications
<system-xml xmlns:cascade="http://www.hannonhill.com/CascadeServer/">Books as Author The Church Organization Manual. Fort Worth and Richardson, TX: National Association of Church Business Administration Press, 1988, 1996, 1999, 2002, 2011. Serving by Safeguarding Your Church. Grand Rapids, MI: Zondervan Publishers Part of the Zondervan Practical Ministry Guides, Paul Engle general editor, 2002. Church Administration: Creating Efficiency for Effective Ministry, Nashville: Broadman & Holman Publishers, 2005. Second edition 2011. Books as Contributor Tim Holcomb, comp. A Maintenance Management Manual for Southern Baptist Churches, Nashville: Convention Press, 1990. Paul Chafee. Accountable Leadership, San Francisco: Church Care Publishers, 1993. James Berkley, ed. Leadership Handbooks of Practical Theology, Vol 3 Leadership and Administration, Grand Rapids, MI: Baker Book House, 1994. Marshall Shelly and Phyllis Ten Elshof, eds. Saving Money and Buying Smart. Nashville: Broadman and Holman Publishers, 1998. Rick Yount, ed. The Teaching Ministry of the Church, 2nd Edition. Nashville: Broadman & Holman Publishers, 2008. Articles as Author Church Administration magazine of the Southern Baptist Convention Vol 35 July 1993 "Effective Maintenance of Restrooms" Vol 35 August 1993 "Cleaning Nursery and Child-Care Areas" Vol 35 August 1993 "Selection of Vacuum Cleaners" Vol 36 February 1994 "Bulk vs Ready-to-Use Cleaning Products" Vol 36 March 1994 "Cleaning Graffiti Marks and Other Difficult Stains" Vol 36 July 1994 "Locker Room and Recreation Area Cleaning" Vol 37 December 1994 "Floor Polishers and Buffers" Vol 37 January 1995 "Ice Removal and Other Wintertime Hints" Vol 37 April 1995 "Care and Maintenance of the Stained Glass Window" Vol 37 June 1995 "Carpet Cleaning Systems and Products" NACBA Ledger journal of the National Association of Church Business Administration Vol XIV OCT-DEC 1995 "Diagnose Your Church's Administrative Health" Vol XVIII Fall 1999 "Show Me the Rules: policies and procedures for the local church" Southwestern News periodical of Southwestern Baptist Theological Seminary Vol 53 Summer 1995 "Improve your Ministry: Diagnose your church's administrative health" Your Church magazine of Christianity Today International Vol 38 May/June 1992 "Accident-proof Your Church Glass" Vol 38 September/October 1992 "Buying Tips for Church Furnishings" Vol 38 September/October 1992 "Buying Tips for Maintenance and Construction" Vol 39 January/February 1993 "Accessibility: Are You Inclined?" Vol 39 July/August 1993 "Kitchens That Really Cook" Vol 39 September/October 1993 "Ideas You Can Use in Church Furnishings" Vol 39 September/October 1993 "Ideas You Can Use in Maintenance and Construction" Vol 39 September/October 1993 "Smart Buying of Church Furnishings" Vol 40 March/April 1994 "Air on the Comfortable Side" Vol 40 November/December 1994 "The Right Light for the Night" Vol 41 March/April 1995 "Rising to the Occasion" Vol 41 May/June 1995 "The Full Sweep On Vacuum Cleaners" Vol 41 May/June 1995 "Job Descriptions that Work" Vol 41 July/August 1995 "Playgrounds: Serious Fun" Vol 41 September/October 1995 "Church Fires" Vol 42 July/August 1996 "Called to Preach: Forced to Administer" Vol 42 November/December 1996 "The Well-Supplied Custodian" Vol 43 March/April 1997 "Purchasing Principals" Vol 43 July/August 1997 "Show Me The Rules" and "Sample Policies" Vol 43 November/December 1997 "Blessed Committees" Vol 44 March/April 1998 "When It's Better to Build" Vol 44 May/June 1998 "Job Sharing: Easing the load" Vol 44 September/October 1998 "How to Upgrade Your Management Skills" Vol 45 May/June 1999 "The No-Sweat Way to Clean" Vol 45 July/August 1999 "What's On Your Altar: Six factors that affect your choice" Vol 45 November/December 1999 "Six Ways to Calculate Your Budget" Vol 46 March/April 2000 "Lessons from Wedgewood Baptist" Manuscripts "Christian Benevolence: The church's response to need." Norman, OK: Trinity B
Professional Organizations
National Association of Church Business Administration, Certified Administrator; The Southern Baptist Church Business Administration Association, Certified Church Business Administrator; Southwestern Baptist Religious Education Association; Baptist Association of Christian Educators; National Association of Professors of Christian Education.
Honors, Recognition, and Awards
Elizabethton High School Outstanding Senior Boy and the Grover Cleveland Medal for Public Speaking Award, 1956; Who's Who in American Colleges and Universities, East Tennessee State College (University) 1959-60; Silver Beaver Award for Distinguished Service to Youth, Boy Scouts of America 1981; Fellow in Church Business Administration, National Association of Church Business Administrators 1985; President's Merit Scholar, Southwestern Baptist Theological Seminary 1986; Marsh Outstanding Doctoral Student Award Southwestern Baptist Theological Seminary 1988; International Who's Who of Professionals 1998; Who's Who Among America's Teachers 2002; Church Management Hall of Fame National Association of Church Business Administration 2008; Distinguished Service Award in Christian Education Southwestern Baptist Theological Seminary 2009.
Other
Retired July 1 1982 as a Commander in the United States Navy having served for twenty-two years of active duty aboard for Naval ships of the line, as executive officer of three shore commands and commanding officer of one Naval installation. Retired July 31 2010 as Dean Emeritus, School of Educational Ministries, Southwestern Baptist Theological Seminary, Fort Worth TX. Served two years as Chairman, Christian Education Division, NOBTS. Presently retired and teaching at NOBTS as Visiting Professor.